Testimonials
Here are a few comments our customers have made about Hydraulic Pumps UK:
Classy Products
"Friendly service with good technical info available over the phone."
Voyager Shiptech
"Good service all round - thank you."
Agritech
"Great turnaround service."
PK Hydraulics
"Look forward to the visit from your rep."
Dr J K Nicholson
"Super service - super people."
GGS Engineering
"An excellent service, many thanks."
Dingbro Ltd
"John Dunn was very helpful."
G Mortimer Crane Hire
"Courteous and polite to our representative who delivered and collected pump."
R Finnie
"Nice friendly service and very helpful, a pleasure to deal with."
Bodychell Sand & Gravel
"Good customer relations."
Searchwise
"Courteous, polite and helpful. Am impressed with the service."
South West Fluid Power
"Excellent service all round and Pam was very pleasant and helpful."
Maximum Lift Trucks
"I found the service to be excellent, polite and very professional. Candice was really helpful and informative."
Stainless Steel Fastners
"A pleasure to deal with a very helpful company."
Davidsons of Rora
"Thank you for your help with our last transaction. Even as a new customer we were well impressed by the service and would not hesitate in contacting you if we have any more problems."
H & M Hydraulic Services
"Very helpful and friendly service."
Rommney Marsh Viners
"Thanks for all for your help. We will be in touch again if we have more work."
Macleons Coaches
"Staff very helpful."
Hamden Bottom Farm
"John is very helpful."
Precimax Precision Engineering
"A first class service was provided including Saturday delivery of a pump. We will use you in the future."
BSA Hydraulics Ltd
"Service provided by Pam was excellent, I wish every supplier was as helpful as she is. Technical support was also helpful."
Middleton Engineering
"Found staff very helpful."
AMS
"Very good, trustworthy service."
Hampson Aerospace
"Very friendly and helpful."
RW Bearings
"Nice team - very helpful."
S A S
"Fast efficient job, will be using you again in near future."
We collect, strip, assess and quote free of charge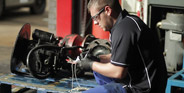 Request a Brochure
Enter your email address to receive our pdf brochure.