Hydraulic Pumps UK - Profile
Hydraulic Pumps (UK) Ltd is the United Kingdoms leading hydraulic engineering company specialising in the repair and replacement of most makes and types of hydraulic pumps and motors to all industries.
Emphasis is placed upon quality assurance, improved performance and capability within the works structure. All personnel receive ongoing in house training and constant updating on products and techniques within ISO 9001: 2000 accreditation providing the client with total confidence in both product and support.
We can boast well over 200 years cumulative experience, this together with the technology and equipment in which we have invested have combined to build a company with an impressive track record in the industry.
The broad range of hydraulic pumps and motors we service receive the expert attention of our dedicated staff, operating out of our custom-built factory and providing competent and personal service to meet all your hydraulic pump/motor needs.
Our policy of investing heavily in stock and components eliminates delays in the repair process. Computerised stock control of all parts and units makes for easy and efficient sourcing. All reconditioned units are subject to 12 months warranty.
We are proud of our sound client base which we have built from blue chip organisations through to many more large, medium and small companies from all over the UK. It is our belief that service to our customers is paramount in all aspects, from first contact to the finished product. This has enabled us to build a reputation for quality, economy and fast turnaround.
Hydraulic Pumps has vacancies available.
We collect, strip, assess and quote free of charge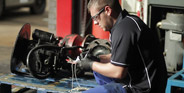 Request a Brochure
Enter your email address to receive our pdf brochure.