We collect, strip, assess and quote FREE OF CHARGE.
We provide a 12 month warranty on all repaired units
We test to the original equipment specifications
Average repair times are 5-7 days*
Same warranty on repair as new if not better
More economical! We aim to quote a maximum of 60% cost of new
Free carrage on all repairs
Repair Centre
We specialise in repairing hydraulic pumps & motors from all leading manufacturers. In our purpose built repair centre we only use genuine parts and offer a 12-month running warranty on all units. We will provide a FREE collect, strip, assess and quote service. If your unit is deemed beyond economical repair we will quote a price and availability for a new unit. (See New Units)
The Process:
The repair process involves careful dismantling, inspection and measurement. Whilst components are reworked where practical, all damaged or badly worn parts are replaced and, where possible are returned to original equipment specifications and then despatched. All our repaired units carry a 12 months warranty.
(See examples of our work)
Repairs vs New
Often quicker than a new unit, many lead times on new units range from 4 weeks to 40 weeks. Average repair times are 5-7 days*
Same warranty on repair as new if not better (many new units only carry a 6 month warranty where we supply 12 months + 3 month shelf life)
More economical! We aim to quote a maximum of 60% cost of new; therefore there is a considerable saving.
Free carrage on all repairs
*Depending on spares required
We understand the nature of breakdowns in all industries as we deal with them daily. Time is important. We will collect all units requested on the same day if we know before 10am otherwise next day collections. We usually receive the units the following morning and aim to quote within 48 hours from receipt. This time frame is completely dependent on the make and model number of your pump.
Arrange your free collection online today or call us to arrange it for you!
Why should I repair with HP UK?
We collect, strip assess & quote FREE OF CHARGE
We provide a 12 month warranty on all repaired units
We test to the original equipment specifications
(See Popular units for more information on common units that we repair)
Ring 01709 360370 for technical support.
We collect, strip, assess and quote free of charge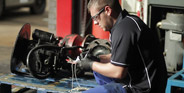 Request a Brochure
Enter your email address to receive our pdf brochure.