Cookies
Cookies
Cookies are very small text files that are stored on your computer when you visit some websites.
We use cookies to help identify your computer so we can tailor your user experience.
We track visits to our website using cookies and these are used to enhance our website experience.
Visitors may turn cookies off in their browsers.
We will use cookies to track visitors on our website.
We are not responsible for 3rd party websites although by consenting to our use of cookies, you accept that we may display advertising messages via our advertising partner networks.
We collect, strip, assess and quote free of charge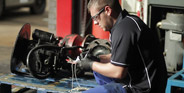 Request a Brochure
Enter your email address to receive our pdf brochure.