Hydraulic Pumps (UK) Ltd - Our 12 month warranty
12 MONTH WARRANTY!
We offer a full 12 month warranty with a 3 month shelf life, this applies to:
Faulty material or workmanship
Incorrect assembly
Failure of components
Warranties are subject to the goods being adequately maintained and no internal investigation or removal of integral parts from the unit.
Please contact HPUK immediately of all warranty claims
BEFORE FITTING YOUR UNIT:
Before fitting your unit, please ensure the following:
The hydraulic reservoir, pipework and the operating fluid are clean and free from impurities and contamination of any sort.
Strainer and filter elements must be cleaned and replaced.
The unit casing must be full of suitable fluid and free from air. The pipelines that deliver oil to the unit must be primed.
Manufacturers start-up procedure should be followed!
To assist your navigation of our site, we have provided the following site map.
We collect, strip, assess and quote free of charge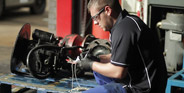 Request a Brochure
Enter your email address to receive our pdf brochure.