Hydraulic Pumps UK - FAQs
We offer a comprehensive service which includes repairing and supplying new units. We have answered some common questions below - however, give us a call to find out more!
Why should I repair with HP UK?
We provide a no obligation & cost effective service combined with a wealth of experience - we know our business!
What service do you offer?
We collect, strip, assess and quote - FREE OF CHARGE and aim to quote within 48hours of receiving your units
Will I get a warranty?
All repaired units have a 12 months running warranty
Can I buy new units from you?
Yes we supply pumps and motors from all leading manufacturers
Do you offer any other services ?
We offer onsite work, training & cylinder repairs. See our new products section.
Are you qualified to repair OEM units?
Yes! We have been trading since 1987 and have a wealth of experience. We are British Fluid Power Distribution Associates and are BSI registered
Can you help me with a car pump or motor?
Unfortunately we do not repair or supply pumps fitted to cars. We always recommend that you contact your car manufacturer
What are your delivery times?
Each delivery time for a repair or a new unit is completely dependent on the make and model you require. We always aim to give you an approximate quote over the phone but again we stress each unit is individual and we treat them as such. See our service above.
We collect, strip, assess and quote free of charge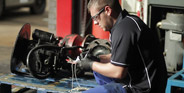 Request a Brochure
Enter your email address to receive our pdf brochure.